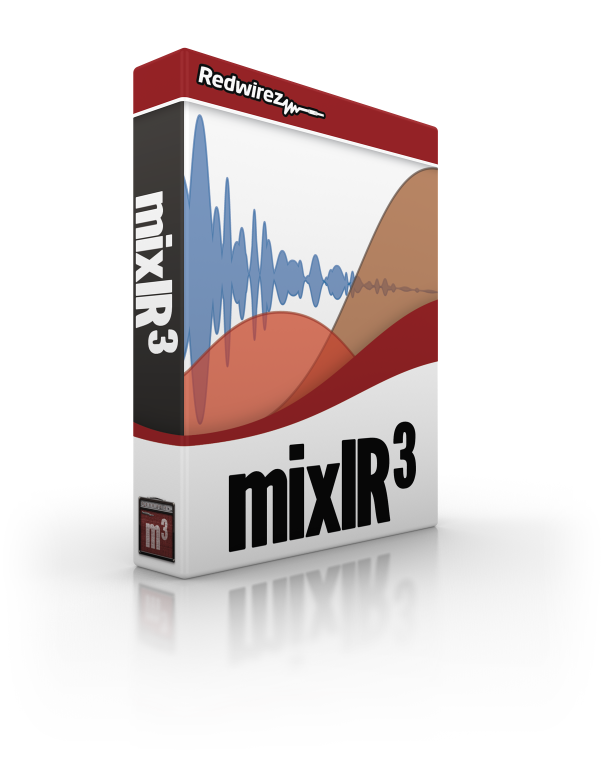 Product Description
Sculpt your sound like never before with the new mixIR³ impulse response (IR) loader. The mixIR³ is a convolution reverb plug-in and a stand-alone Mac or Windows app.
Easily mix mics, cabinets, reverb and more with unrivaled performance. The mixIR³ allows you to stack and blend a practically unlimited number of IRs. And with our N-series and A-series mixIR³ modules you can now add classic Neve and API EQ to your IR stack.
You can even export your IR mix as a WAV or AIFF file for use in another plug-in, ampsim or hardware IR loader.
All current BIGbox libraries include both mixIR³ modules and IR WAV files.  Loading up an IR module gives you an easy point-and-click way to choose a speaker, mic, position and distance.
Walk-through Video: Vimeo
RTFM: MixIR³ User's Manual
Cabinet IR mixing tips: Hone Your Tone
Features
Efficient, drag-and-drop IR loader for Redwirez and 3rd-party IRs
Load Redwirez IR Modules to visually navigate and select IRs
Run one IR or up to 64 with the same unmatched performance
Zero latency for delay-free live performance
Export your IR mix to WAV or AIFF for use in an external device
No dongles! No authorization or activation scheme
Note: mixIR³ will load 3rd-party or previous generation Redwirez IRs.  But, it will not display a 3D cabinet interface for 3rd-party or previous generation IRs. MixIR³ modules, included with all current BIGbox libraries, are required for a 3D cabinet interface.
Standalone App Features
Standalone app for mixing IRs without a DAW
Play guitar tracks in a loop and audition IRs

Play live through the app (low-latency on MacOS only)

Export your IR mix to WAV or AIFF for use in an external device
Modules Included
Marshall 1960A 4×12
To get you started, mixIR³ ships with our free Marshall 1960 IR module. It's loaded with Celestion G12M25 "Greenbacks" and sampled with 4 classic mics: Shure SM57, Royer R121, Sennheiser 421 and the Neumann KM84. Details...



Redwirez REQ
Our 5-band EQ with high pass and low pass filters. Great analog-style curves. No nonsense.  Use it alone or with a stack of IRs.


PCM60 Reverb
Classic PCM60 digital reverb. 12 buttons. 128 ways to make a splash with 80s-style plates and rooms.
Redwirez Giganator
Mix IRs with the Giganator to simulate the sound of high "gig" levels at bedroom listening volume. Tweak your existing IR mixes so they sound better live.
System Requirements
Operating System
MacOS: 10.11.6 or later (64 bit); Apple Silicon is supported natively
Windows 7-SP1, 8.1, 10 (64 bit)
Plugin Formats
VST 2.4 and 3, AU (Audio Unit), AAX (Pro Tools)
Money-back Guarantee
Within the first 14 days after purchase, if for any reason you do not want your plug-in you can delete it and receive a full refund. No questions asked.


---
*All product names used in this webpage are trademarks of their respective owners, which are in no way associated or affiliated with Redwirez. These trademarks of other manufacturers are used solely to identify the products of those manufacturers whose tones and sounds were sampled during impulse response capture.